With many options to choose from, it can be difficult to find a vaccine refrigerator or freezer that works for your specific needs. According to the CDC, the most reliable option for vaccine storage is a purpose-built medical-grade refrigerator or freezer. The reason being that purpose-built units offer more stable temperature control. This is important as the potency of a vaccine can diminish with the slightest temperature fluctuations. Risking your vaccines in a general-purpose refrigeration unit could completely ruin your entire supply. This could end up costing you even more money and could even result in administering ineffective vaccines to patients.
One of the biggest issues that medical professionals run into is storage capacity. Trying to figure out the proper size for your total supply at a given time can be difficult. Not having enough storage space can lead to vaccines not having anywhere to be stored. It's relatively similar to the same way you purchase a car; You know how much you will be driving. You know the amount you can spend. But do you really know if other features are necessary or will negatively affect your driving? Sometimes we all need some help in finding that perfect product especially when doing it on your own can cause more harm than good.
The good news is you are not alone and LabRepCo is always here to help.
Through years of experience with clinical refrigeration, we have listened to feedback from our customers. We've learned from their comments as to what is most difficult from their point of view. When it comes to finding the right products to fit their vaccine storage needs, we made it as simple as possible for our customers. We have created the below configuration chart to help you decide which refrigerator or freezer (or both) fit all of your needs.
So let's begin to help you find a vaccine refrigerator or freezer
The most important thing to always keep in mind is, "What am I storing?"

Frozen Vaccines: If you are storing frozen vaccines (Varicella, MMRV or Zoster) you will need a freezer that maintains a consistent temperature of +5°F or lower.
Refrigerated Vaccines: If you are storing other routine recommended vaccines, you will need a refrigerator that maintains temperatures between +35°F and +46°F. The CDC recommends average temperature storage of +40°F for refrigerated vaccines.

How many maximum doses will need to be stored at any given time?Make sure you precisely calculate the maximum doses that you would need to have in your refrigerator or freezer at peak season.Be sure to account for any extra, unexpected supply that might need to be stored and make sure there is additional space to avoid overcrowding.
Depending on the amount of vaccines you are storing and the available floor space in your office or lab, determine whether you need an individual or combination unit.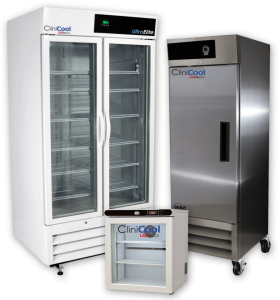 3. Individual refrigerators and freezers are your basic standalone units and include undercounter/benchtop and upright freezers from 2 to 49 cubic feet.
Our combination units offer a unique approach specifically designed to accommodate vaccine storage by stacking a small freezer unit on top of a refrigerator. These units operate completely separate from one another to avoid any temperature fluctuations while adding a level of convenience and saving you valuable space.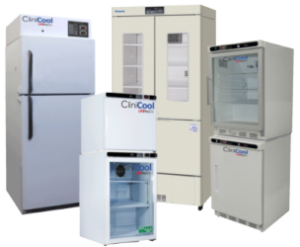 Not all vaccines can be exposed to light. Determine whether a solid door or a glass door would be best suited for your storage needs. Most clinics prefer glass doors to reduce vaccine exposure to ambient temperature. Window blackout film is available for sizes only available in glass door.
Temperature monitoring is the most crucial daily practice in order to keep track of the internal temperature of the refrigeration unit and the supply itself at all times. Make sure you efficiently monitor these temperatures with NIST Vaccine Storage Thermometers or Data Loggers. Meeting CDC's requirements for vaccine storage, these thermometer & data loggers provide accurate temperature data and logging capabilities (data loggers).
Once you have determined what you are storing, the amount you are storing and whether you need a glass or solid door, you can then take a look at our Vaccine Configurator Chart to help guide with selecting a perfect unit. Not all available clinical units are listed on this chart but the configurator will assist with determining the minimum capacity requirement you need for the amount of doses you will be storing. Once you figure out the minimum internal capacity you need for your unit you can find all available units on our website by following the links below.
For more information or any questions regarding clinical refrigeration and storage, please contact us here or call us at 1.800.521.0754.