Flu season is here and while patients begin to plan for their shots, medical offices and pharmacies also must plan for safe storage and handling of their vaccine supply.
Vaccines are extremely sensitive to temperature and even the slightest fluctuation can result in a decrease of potency within the vaccine. But when a vaccine does lose its efficacy how will you know?
The Answer: You won't
It is nearly impossible to look at two vaccines and determine a "good" vaccine compared to an ineffective or potentially harmful one. With this in mind, the CDC has set strict guidelines in their document "Vaccine Storage & Handling Toolkit" on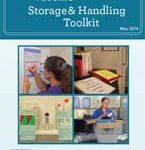 how and where vaccines should be stored and monitored to ensure that vaccines administered to patients are effective and safe.
The first step for an effective vaccine storage plan is to assign a primary and an alternative vaccine coordinator to be in charge of all of the vaccine storage and handling at the facility and make sure they have read and fully understand CDC's toolkit.
When ordering or receiving vaccines, the manufacturers should always provide product-specific information, including:
The temperature range the vaccine should be stored in
How to store and use a diluent to reconstitute a vaccine if needed
When a vaccine should be discarded
These three vital pieces of information will help you determine; if you need a refrigerator or freezer, what strict temperature ranges the units will be required to maintained at all times and when a subject should be discarded if it falls out of its temperature range.
Let's begin with one of the main factors: the refrigerator or freezer storing and protecting the vaccine
What you should not be using:
If you are planning to or currently use a dorm-style or bar-style refrigerator/freezer stop what you are doing immediately. Both of these types of refrigeration units are not designed to store vaccines let alone reliable enough to store temperature sensitive subjects. Storing in this type of unit can cause temperature fluctuations, inaccurate temperature settings/readings and possibly unit failure.
What you should be using:
A clinical grade pharmacy refrigerator or freezer specifically built to maintain a strict temperature range for the storage of sensitive samples. These self-contained units should be individual standalone units; if using a combination unit, each chamber must operate on its own individual compressor allowing each compartment to perform at a specific temperature range for each.
The size of the refrigeration unit that you select should be based on your largest inventory at any given time of the year without any crowding. This should be separated based on refrigerated vs frozen vaccines. For example if you know your max refrigerated vaccine supply at any given time is about 200 you will most likely purchase a 5 cubic foot refrigerator, but if your max frozen supply is only 100 you can use a 3 cubic foot freezer. Please refer to our "Vaccine Configurator Chart" to easily identify the cubic foot needed for your supply (other options including special combination units are also available, call us for help!).
Once you have identified the correct size for your inventory you will also need to decide between a solid or glass door unit. A glass door unit allows you to view inside of the unit and where items are located within; reducing the time needed to keep the door open. But if your vaccines have restrictions against exposure to light then a solid door storage unit would be the best fit for your office or clinic.
It is highly recommended to have back-up storage units readily available in the event of a power failure or any other unexpected event.
But let's say something unforeseen like a power outage occurs overnight. Your medical office lost power for 4 hours and the refrigerator that had been storing vaccines warmed up but what temperatures did the cabinet reach? You would have no way of checking if the internal temperature exceeded the specified range and all of the vaccines within the unit MUST be discarded.
To avoid any uncertainty of internal temperature the CDC has advised that all cold storage units preserving vaccines should be monitored by a NIST Data Logging Thermometer. Not only do these data loggers provide accurate temperature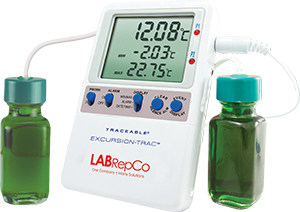 readings from inside the cabinet they also record the highest and lowest temperatures all day and all night providing you with continuous data. These thermometers should be calibrated and come with a Certificate of Traceability and Calibration Testing for confirmation. These data logging thermometers should also feature hi/lo alarms & time/date stamps that alert the user and record when temperature limits are surpassed and for how long.
By pairing your medical grade refrigerator or freezer with a NIST Data Logging Thermometer you will have all of the equipment needed to properly store vaccines. The next step to safe vaccine storage begins with a good monitoring and inventory plan and trustworthy personnel to carry out the plan. Below is a list of key things to keep in mind when creating your plan:
Designate a primary vaccine coordinator and at least one alternate coordinator to be in charge of vaccine storage and handling and make sure they have fully ready and understood CDC's Vaccine Storage & Handling Toolkit
Create up-to-date, written policies for vaccine management including policies for routine activities and emergencies. Make sure all staff has reviewed and understands policies.
Maintain vaccine inventory log to document name of vaccine, doses received, date received, condition when received, manufacturer and lot number and vaccine expiration date.
Keep water bottles in refrigerators and keep ice packs in freezers to help maintain cool temperatures.
Do not store any food or drink in any vaccine storage unit.
Store vaccines in the middle of the cabinet away from walls or vents, leaving room for air to circulate around the vaccine. Never store vaccines in the doors.
Inspect vaccine storage unit twice a day. Document min/max temperature readings.
Use vaccine with the soonest expiration date first
For tips and more information on proper vaccine storage please view CDC's Vaccine Storage & Handling Toolkit. Click the following links for more information on our clinical refrigerators and freezers.