The need for innovative high quality equipment is important to us so LABRepCo is happy to announce our new partnership with PHC. Backed by more than 40 years of experience in the medical and laboratory equipment sector, Panasonic's innovative biomedical technology includes preservation, incubation, and sterilization. With the addition of PHCbi Ultra Low Temp Freezers we are able to connect to our customer's specific applications and needs.
Panasonic takes into consideration each dynamic of the clinical, pharmaceutical and biotech industries in order to thoroughly produce a reliable, premium product. With that in mind, Panasonic Healthcare has been developing and refining their biomedical line of Ultra Low Temp Freezers to ensure they not only offer unmatched performa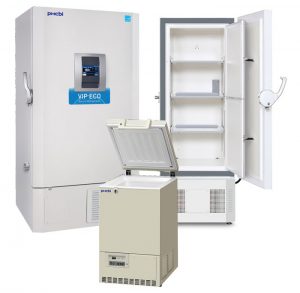 nce, but the highest dependability of any freezer within the clinical and life sciences industries. Considering the protection of sensitive biological samples has always been one of the highest priorities within laboratories, why wouldn't you trust them in the most consistent freezers on the market?
Reliability
By applying the latest engineering theories, compressors, electronics and designs, all Panasonic products are built with ergonomics, convenience and reliability in mind. With a 99% up-time, the Panasonic ULT freezers perform as promised giving you peace of mind that your samples are always protected. These Freezers are thoroughly tested to meet the most rigorous quality standards in the world making them the industry's safest ultra-low storage solution for high value biological samples.
Performance & Recovery
Panasonics purpose built compressors consist of components that increase compressor longevity and refrigeration capacity while reducing operating pressure and discharge temperatures. Also equipped with three layer insulated doors, the temperature uniformity of the Panasonic freezers is among the industry's best and surpasses volumetric uniformity of +/-5°C. With a rapid "pull down" speed these units prove to be 30% more efficient compared to other standard industry brands of ULT freezers.
The Perfect Balance Between Performance, Efficiency & Size
The PHCbi MDF-U76V VIP Series 25.7 cubic foot capacity upright ultra-low temp freezer is the industry leader in -86°C preservation for uniformity, reliability and reduced footprint. With its complete combination of refrigeration, control, alarm, monitoring and accessibility for sample security; this ULT is the perfect solution for sample storage in repositories, hospitals, clinics and medical research facilities.
Enhanced Performance:
· Panasonic cascade refrigeration system uses Panasonic designed compressors specific to ultra-low applications for higher performance, reliability and peace of mind.
· Increased cooling capacity improves temperature recovery after door openings.
· Evaporator coil surrounding chamber interior is strategically designed to provide optimum temperature uniformity throughout the cabinet.
· Voltage boost & surge protection devices provide dependable operation over wider power ranges and environmental conditions.
Patented VIP PLUS Vacuum Insulation Panel
· The MDF-U76V features exclusive VIP PLUS vacuum panels for an even greater energy efficiency and cooling performance.
· Three Layer doors combine multiple high-performance vacuum panels with high-density foam insulation providing a reduced wall thickness for maximum interior volume. (Up to 30% more storage capacity than conventional insulated freezer without increasing the footprint)
Panasonic Heat Exchanger Design
· New improved design of heat exchanger reduces compressor running time and increases efficiency by incorporating more surface area contact at critical points in the refrigeration system.
Inner Doors for Better Uniformity
· High-strength sealing, insulated inner doors minimize interior temperature changes during routine door openings ensuring maximum chamber uniformity.
· Easy-In/Easy-Out inner door latches seal firmly against the cabinet with one hand operation.
Microprocessor Control
· Comprehensive setpoint, alarm, monitoring and diagnostic functions managed by Panasonic-built microprocessor controller with digital display.
· Status alert feature constantly monitors ambient and system conditions and notifies the user of any abnormalities before a problem occurs.
Click here for more information on the MDF-U76V
Regardless of the application, these efficient freezers allow for large capacity, long term storage with a small foot print and most importantly, they always come with peace of mind. Trust your samples and research to the most reliable ultra-low temp freezers in the life sciences and clinical industries with Panasonic Twin Guard, VIP and PRO series upright and chest freezers.