One of the top concerns for laboratory professionals working with flammable, hazardous or any other volatile materials is safety. All lab personnel carefully follow guidelines while handling these volatile materials, but if they require cold storage, how do you store them?
Standard laboratory refrigerators and freezers should be eliminated as an option because of the electrical & heating components that are typically exposed and can cause a spark leading to an explosion. With that said we are left with two options that are designed to eliminate these concerns:
Flammable Material Storage Refrigerators or Freezers
Or
Hazardous Location (Explosion Proof) Refrigerators or Freezers
The interior of both of these types of refrigeration units provides a "spark-free" environment. This means there are no components on the inside of the refrigerator or freezer that can cause a spark. The electrical components, temperature controller and other wiring are located on the exterior of the unit.
Both of these options provide exceptional storage for volatile materials, but what is the difference between the two?
Though they may seem like they serve the same purpose, hazardous location refrigeration systems offer a spark free interior AND exterior. All of the electrical components and wiring (including temperature controller, evaporator, etc) are located in sealed conduit housings on the exterior of the unit. The unit does not come with a power cord and must be hard-wired to the power source, successfully eliminating any electrical exposure.
With that said, how do you know which one to choose?
To put it simply: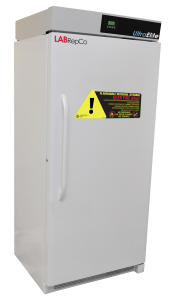 Flammable Material Storage Unit: Spark free interior
Hazardous Location/Explosion Proof Unit: Spark free interior and exterior, plug is hard-wired.
If you plan on storing the refrigerator or freezer in a standard laboratory where there are other items that can cause a spark (i.e. computer, outlet, phone, static, etc.), then a flammable material storage unit is most likely what you are looking for.
On the other hand, if you have a room that is specifically designated as Class 1 Div 2 or similar classification, the hazardous location/explosion proof refrigerators and freezers are your answer. These units do not come with a plug and need to be hard wired into the wall, as will all of the other equipment in the room.
Click here for more information on hazardous location and flammable material storage refrigeration
*Disclaimer: Please check with your safety or industrial hygiene department for specific storage guidelines