The CDC advises that getting an annual flu vaccine is the first and best way to protect yourself and your family from the flu. Flu vaccination can reduce flu illnesses, doctors' visits, and missed work and school due to flu, as well as prevent flu-related hospitalizations. Increasing the number of people who get vaccinated each year helps to protect more people, including older people, very young children, pregnant women and people with certain health conditions who are more vulnerable to serious flu complications. In order for the flu shot to work optimally, you should try to get this before the end of October, but it can still be very effective after this time.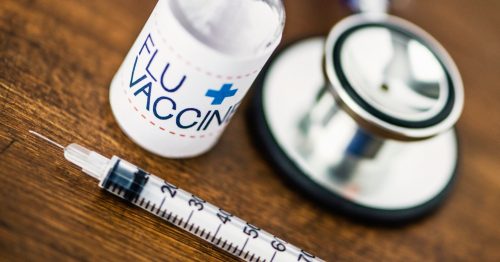 Avoid close contact & stay home when you are sick.
Avoid close contact with people who are sick. When you are sick, keep your distance from others to protect them from getting sick too. If you are stick, stay home from work, school, and errands if possible. This will help prevent spreading your illness to others.
Cover your mouth and nose.
Cover your mouth and nose with a tissue when coughing or sneezing, or perhaps consider using the elbow technique (below). It may prevent those around you from getting sick.
Wash your hands frequently.
Germs are often spread when a person touches something that is contaminated with germs and then touches his or her eyes, nose, or mouth. Wash your hands with soap, or use hand sanitizer, especially before eating.
Get plenty of sleep, be physically active, manage your stress, drink plenty of fluids, and eat nutritious food. A weak immune system puts you at greater risk from the flu, so keep it strong and healthy.
If you are a health practitioner and need more information about vaccine storage and monitoring for your flu vaccines, contact our refrigeration experts today.