Freezer racks are designed to organize & safely store biological samples and other frozen materials in a laboratory freezer. Built out of stainless steel or aluminum, laboratory freezer racks are a durable, long lasting solution to freezer organization. Freezer racks are designed with separate compartments. These compartments can be used to store individual boxes, conical tubes, vials and other storage materials commonly found in laboratory applications. This allows for easy labeling and identification of samples while providing security. These laboratory freezer racks are typically used to store samples within -20°C Freezers, Ultra Low Temperature Freezers & Cryogenic LN2 freezers. Read more below to learn about the different styles of racks and how to easily identify which rack will fit your freezer.
Upright Freezer Racks
The most common freezer rack is the standard upright rack style that is built for storage in an upright laboratory freezer. The upright freezer racks sit on each freezers shelf and typically offers multiple slots horizontally & vertically in order to maximize freezer storage capacity without jeopardizing sample integrity. Evolving from the standard upright freezer rack is the upright "drawer style" freezer rack. This design offers the same amount of storage as standard racks, but adds convenience with sliding, pull out drawers. The drawer style freezer rack is a more ergonomic solution as it eliminates the need of having to pull the entire rack out of the freezer to retrieve your samples and instead you can pull out one drawer (or row of samples) at a time.
Vertical (LN2) Freezer Racks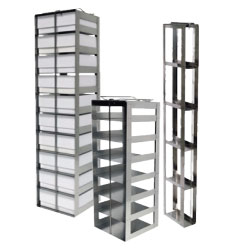 Another style of racks are the vertical freezer racks, or LN2 freezer racks, which are used primarily for liquid nitrogen or chest freezers. Since vertical racks need to be pulled up from the chest or ln2 freezer, these types of racks typically include a single, vertical column of storage and are less bulky. These racks are most commonly available in standard styles were the box would typically lay flat (horizontally) in the rack. Another type of vertical rack that is available is the "slim" style vertical freezer racks where the boxes are stored on their sides (vertically). This style also maximizes storage capacity by allowing you to fill in extra spaces where the standard vertical racks would not fit. Some vertical freezer racks come with the option of a locking rod for more secure storage to eliminate boxes sliding out of the racks. Another security feature offered on some racks is spring clips which acts as a metal support that gently squeezes the boxes in place.
Both the upright and vertical style freezer racks are available to store a variety of storage types including:
2", 3" & 4" boxes
Microtube Boxes (MATRIX, FluidX, Micronic Racks, etc.)
Centrifuge (conical) tubes
Microtiter plates
25-place slide boxes
Blood Sample Tubes
Storage Bottles
100-cell hinged top boxes
And more
Learn more about available freezer racks or contact us today to speak with a cold storage specialist to find exactly what you are looking for.
If you know your freezer model or size, but you are unsure of which size racks will fit your freezer, try the freezer rack configurator for assistance.