Unmatched Performance. Exceptional Reproducibility. German Engineered.
With a high-speed ramping rate and a state-of-the-art design the TAdvanced S Thermal Cycler is the most "advanced" polymerase chain reaction (PCR) machine on the market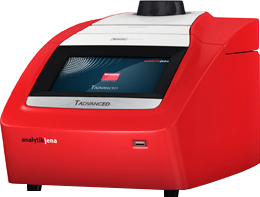 to date. Built for a variety of research applications including sequencing, cloning, genotyping, mutagenesis and more, this powerful instrument produces accurate results along with maximum reproducibility. Fully Equipped with a 7" color touchscreen for friendly user interface, innovative software and new custom programs with added security features for laboratories with multiple users and applications.
So what exactly does the "S" stand for in the all new TAdvanced S Thermal Cyclers?
Unlike most thermal cyclers on the market this thermal cycler comes standard with a silver block for exceptional temperature uniformity across the entire block. This material has been known for its thermal conductivity allowing for extremely fast heating & cooling rates which reduces protocol time to give fast results.  The TAdvanced S has a heating rate of 8.0°C per second which is unmatched by any standard full-block PCR machine.
Some of the new features and highlights of this new Thermal Cycler include:
Rapid: High-speed sample block with unbeatable ramping rate
Excellent: Temperature uniformity and no over- or undershooting for maximum reproducibility
Smart: Innovative design with high-quality components, "Made in Germany"
Quiet: Low-noise operation thanks to the latest technology
Comfortable: 7" color, touch display with intuitive software interface
Flexible: Individual assignment of rights for different user groups
For more information regarding the TAdvanced S or other Thermal Cycler & PCR questions, please call us at 1-800-521-0754 or click here to email us.