Remote alarm contacts are used to send temperature information from a refrigerator or freezer to an external monitoring device. There are two types of remote alarm contacts: 4-20 mA Contacts (analog) and Dry Contacts (digital). These are not actually a remote alarm themselves, but a way to connect and monitor cold storage equipment with an external monitoring system.
4-20 mA Contacts (Analog)
4-20 mA contacts are a type of remote alarm contact that uses a refrigeration units internal temperature range to send signals to a connected monitoring device. 4-20 mA contacts will provide a temperature range to your monitoring device, giving you real time information on the temperature of the unit.
With 4-20 mA contacts, a refrigerator or freezers temperature range corelates to a value between 4 mA and 20 mA. When the range (temperature) falls below 4 mA or rises above 20 mA, an alarm is triggered.
For example, you set your refrigerator alarm low set point to 36°F (4 mA) and hi setpoint to and 46°F (20mA). When the temperature is outside of that range, a signal is sent to the connected monitoring device that is being used to alert you that your equipment has a temperature excursion.
Dry Contacts (Digital)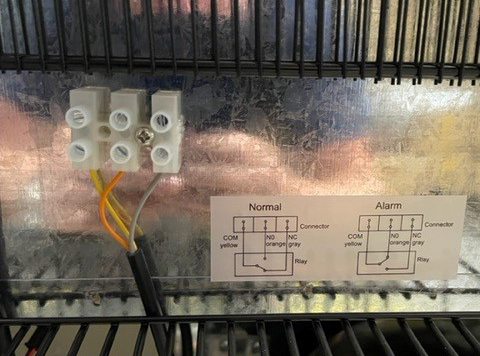 Dry contacts are another form of remote alarm contacts. Much like the 4-20 mA contacts, dry contacts are also meant to be connected to an existing monitoring system that is in your facility. These contacts operate like an ordinary switch, providing a normally open and normally closed signal. When the contacts are closed, the current flows through the contacts and if the contacts are opened, no current flows through the contacts.
This is a more basic style of alarm that only tells you if there is an alarm present. It will not tell you what the temperatures are of the refrigerator or freeze. When the temperature of your equipment goes outside of the alarm temperature setpoints, it will send a signal that the unit is in alarm.
For example, if your refrigerator or freezer goes into alarm (temperature excursion), the dry contact will flip from normally open (NO) to normally closed (NC), triggering an event to the external monitoring system to alert the user. This tells the external monitoring system that "something has happened" with the temperature range or the unit itself, but it will not provide you any further information.
Refrigerators & Freezer with Remote Alarm Contacts
Most laboratory and medical refrigerators & freezers offered through LabRepCo offer remote alarm contacts. Typically, these units come standard with dry contacts, but a 4-20 mA option is available for additional costs. Remote alarm contacts are extremely beneficial to laboratory and medical cold storage due to the temperature sensitive products or vaccines being stored. The contacts allow the user to always be aware if the cold storage unit is within temperature range or performing as it should be.
Visit the cold storage products category for more information on remote alarm contacts and the laboratory and medical refrigerators or freezers that come with these options. If you need further assistance, contact your local LabRepCo sales rep today by visiting our sales team page.