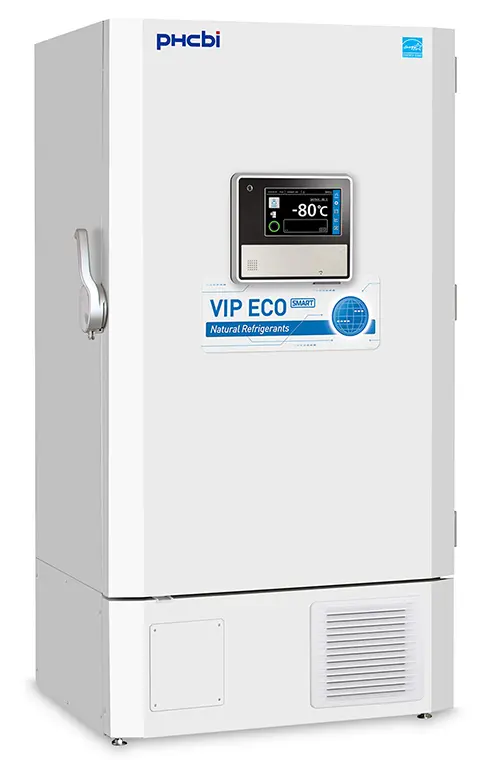 The PHCbi brand VIP ECO Ultra-Low Temp Freezers just got an upgrade. Still with the same storage capacities, the new and improved VIP ECO SMART Ultra-Low Temp Freezers now feature more technology with lower energy usage. PHCbi will be keeping their original VIP ECO freezers as an alternative, but the latest ULT's are the new leaders of -80C storage. These ultra-low freezers feature new SMART technology for superior temperature uniformity and upgraded touchscreen features with added security. Read below to learn more about the latest ULT technology.
VIP ECO SMART ULT Freezers Offer The Same Reliability, More Energy Efficiency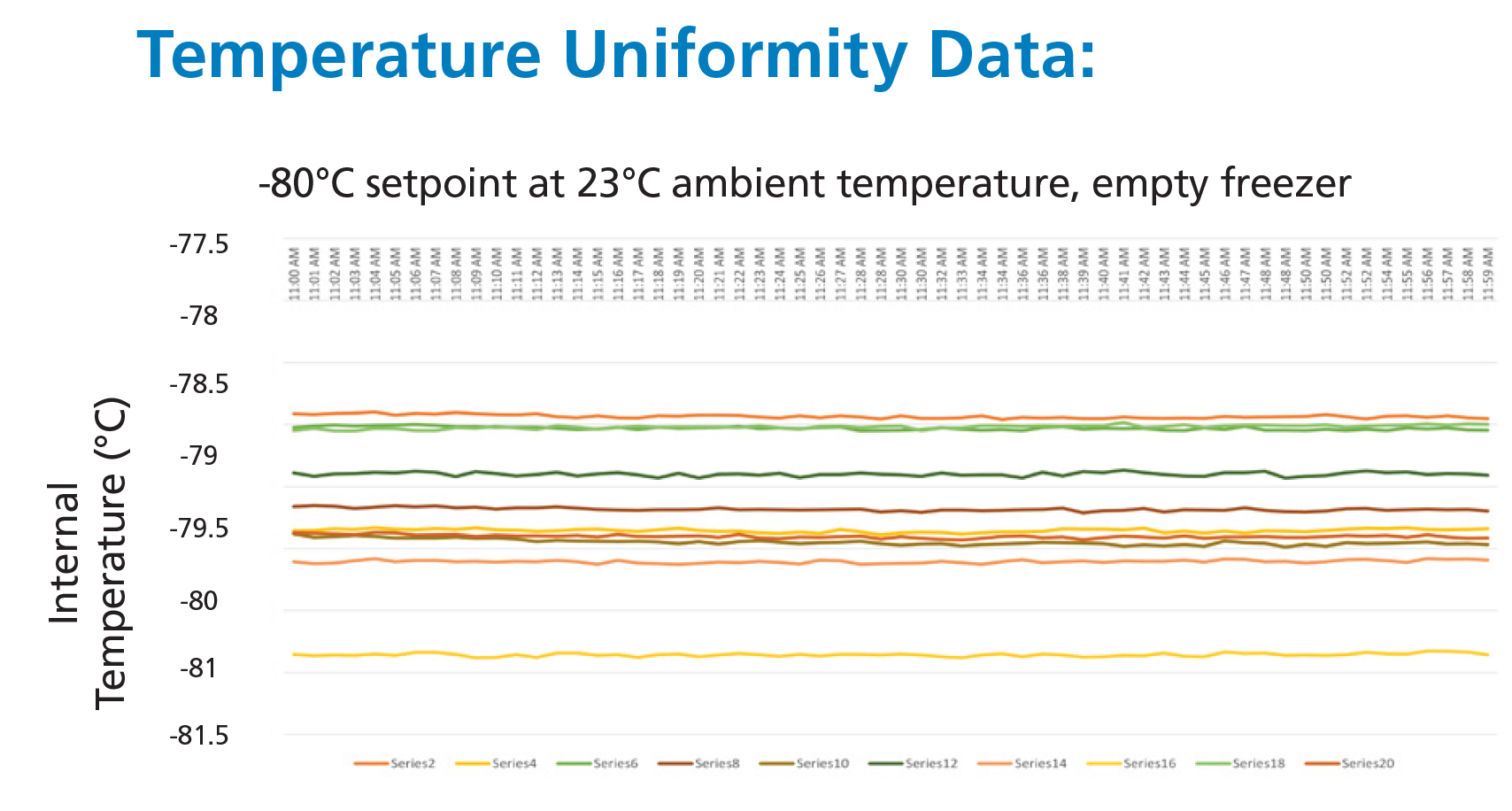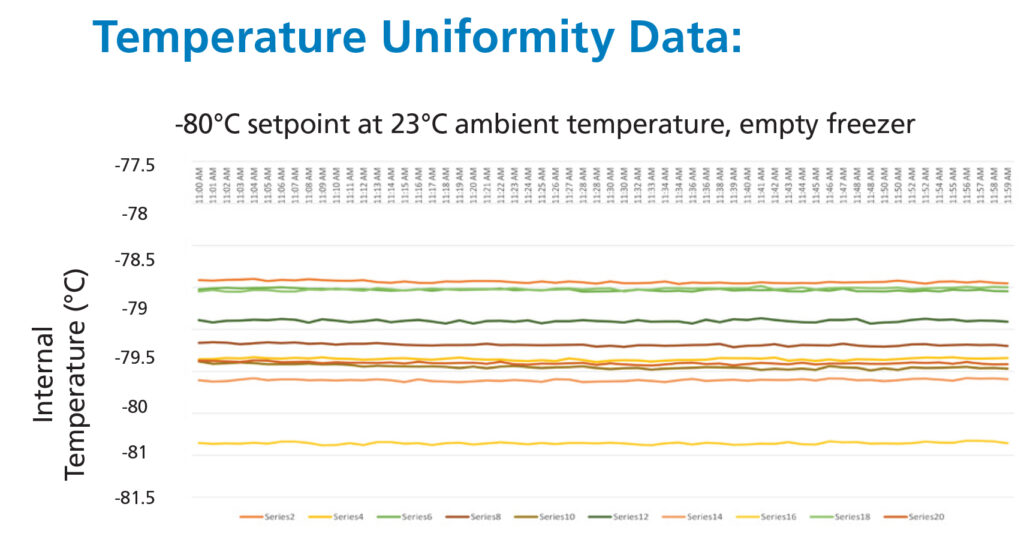 The original VIP ECO units are one of the most energy efficient ultra-low temperature freezer models to exist on the market. Not only are they ENERGY Star certified, but the PHCbi brand is well-known throughout the industry to be THE most reliable product. The PHCbi brand continues to prove they are the leader in ULT freezer energy efficiency by lowering the energy usage once again. The new MDF-703VH(A)-PA & MDF-503VH(A)-PA model VIP ECO SMART Ultra-Low Temp Freezers are ENERGY Star certified and offer the industry's lowest energy consumption without compromising performance. In fact, the VIP ECO SMART freezers use 30% less energy than other leading ENERGY Star listed freezers. Pair that with PHCbi's 99.9% reliability rate and you have one of the most elite ULT's on the planet.
0.21 kWh/cu.ft. Daily Energy Consumption
5.4 kWh/day, Steady State at -80°C
4.5 kWh/day, Steady State at -70°C
Temperature Uniformity:
Enhanced Touchscreen Technology With Added Security
The high resolution LCD touchscreen controller on the new VIP ECO SMART Ultra-Low Temp Freezers got an upgrade as well. The new controller now features an eye level, 10.1" sized screen for easy viewing. This LCD touchscreen controller also offers new security features with state-of-the-art controlled freezer access. You can now know who entered the freezer, when and even track how long the door was open. This controller also allows for up to 3 days to enter and lock the freezer using facial recognition, a keypad or a proximity card. The screen will also display all performance attributes as well as an internal temperature log. A USB port is also standard on these controllers, allowing you to easily transfer logged data to a PC.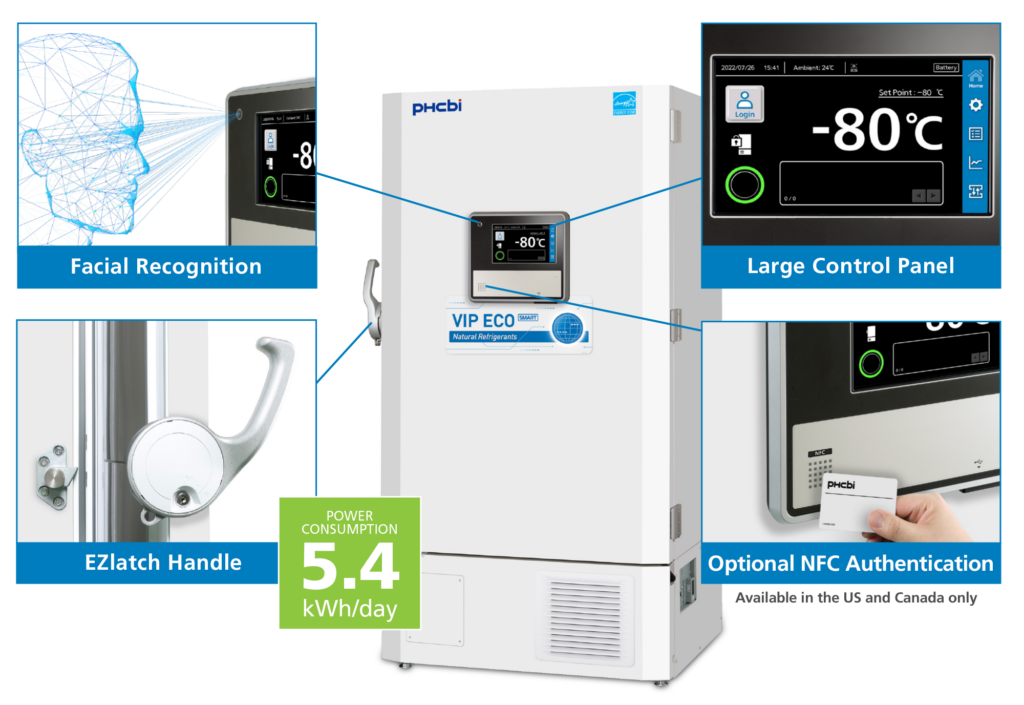 Learn more about these new VIP ECO SMART ULT Freezers from PHCbi by visiting their product pages. You can also contact us today to speak with your local area representative, by filling out the form below.