The sustainability and storage of your research is the upmost importance when working with valuable and sensitive samples. LN2 freezer storage options are often used for this purpose as they can reach -150°C. Cryopreservation provides a solution for the storage of blood, DNA, RNA and other biomedical samples. To help you pick the best solution to store your samples, read through the list below. This list features LN2 freezer storage options with a variety of benefits & technology from leading industry brands.
Azenta Life Sciences Cryogenic Solutions Ergonomic LN2 Freezers
The Azenta Life Sciences Liquid Nitrogen Ln2 Freezers are an energy efficient cryogenic storage solution. These freezers offer a high density of 22,000-100,000 2ml sample storage and a 10 day holding time. These freezers include ergonomic features such as a low liftover height, a folding step and functioning handle. Their most innovative ergonomic feature is the automatic fog clearing for enhanced visibility and sample access. All Abeyance Cryo freezers come standard with a touchscreen controller with built-in WiFi/LAN. Data can be emailed or texted, pushed to the cloud or saved on a USB flash drive. This helps you stay connected about data storage, secondary temperature and level monitoring, and more. The freezer also features a patented interior LED light that no other manufacturers on the market have at this time.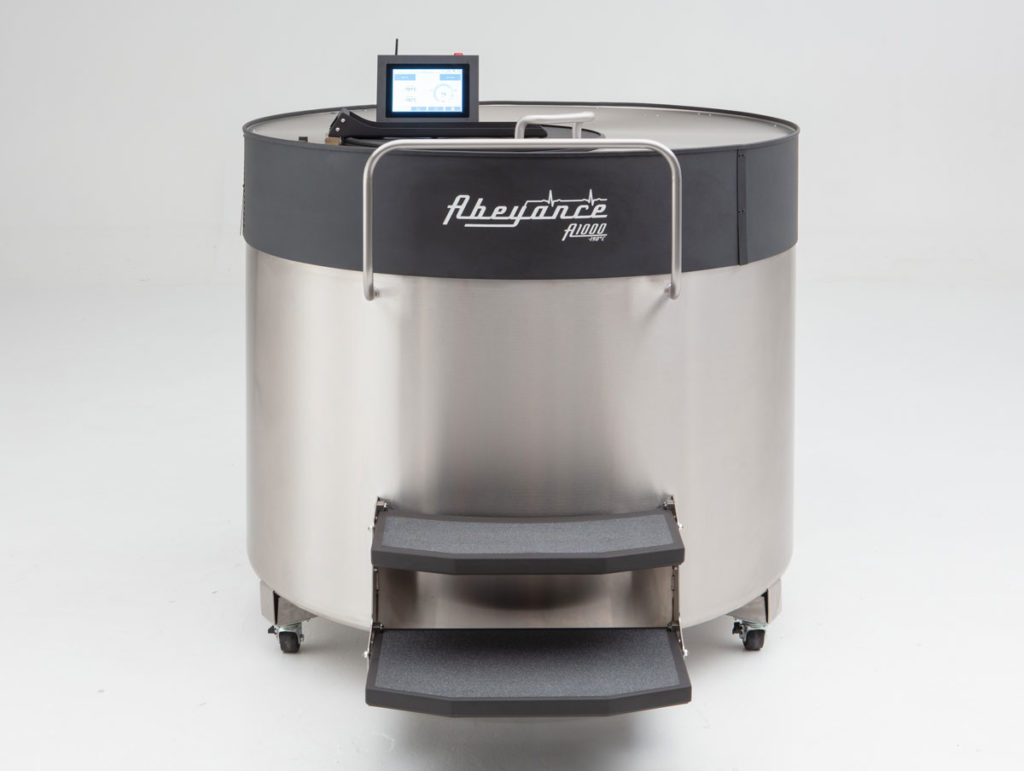 MVE Fusion Freezers (Self-Sustaining Cryogenic Storage)
The award winning MVE Fusion Freezer is the first of its kind self-sustaining cryogenic freezer. This freezer is also ergonomically designed with lift-over heights and steps. The Fusion Freezer offers secure storage, extended hold times with reduced LN2 usage. Also featured is remote location capabilities and no required vacuum piping. Once charged, and using a minimal amount of liquid nitrogen, the Chart MVE Fusion's high quality, stainless steel tank can provide long-term storage while maintaining a desired temperature to keep the cryogenic samples in your lab or work space safe. The MVE Fusion operates as a stand-alone unit that requires no ongoing liquid nitrogen supply or piping to a liquid nitrogen supply source, making it ideal for locations with limited access to liquid nitrogen delivery, such as remote geographical locations or rooms in isolated locations throughout your facility.
Using Chart's patented Qdrive cryo-cooler technology, the MVE Fusion provides constant, reliable cold storage in the tank. In the event of a power outage, the energy-efficient Chart MVE Fusion has a 7-10 day hold time. Dry storage helps reduce the potential of cross contamination by eliminating the liquid nitrogen variable, further protecting valuable samples. Available in the 1500 model, the MVE Fusion has capacities up to 31,200 1mL/2mL vials.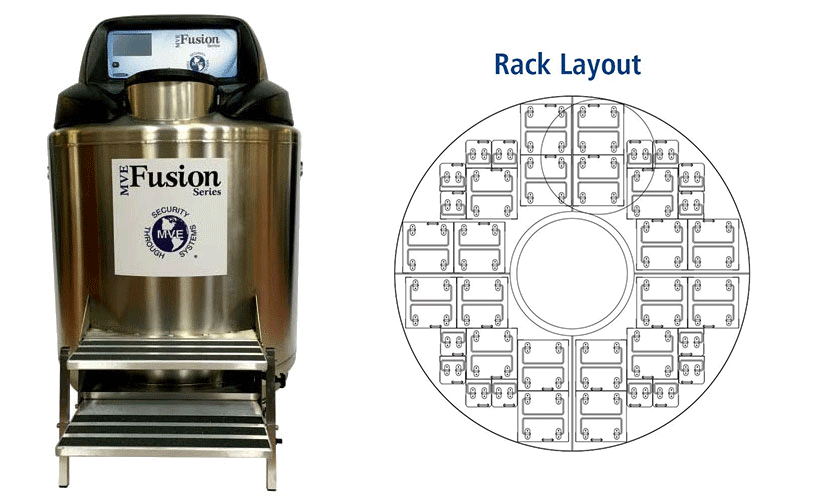 Custom Biogenic Systems Isothermal LN2 Freezers (Open Mouth Tank)
The Carousel Isothermal Liquid Nitrogen Freezers from Custom Biogenic Systems (CBS) provide the most consistent liquid nitrogen storage temperatures without any contact of LN2. The liquid nitrogen is stored in a patented jacketed space in the wall of the freezer; maximizing storage space while minimizing the chances of cross contamination. The wide lid opening of these isothermal freezers allows for easy, unrestricted access to samples while maintaining temperatures inside the freezer. The carousel feature provides a convenient holder for the freezer racks, which rotates in order to easily remove racks from the system. Cryogenic dry storage eliminates many of the risks associated with liquid nitrogen contact; dry storage is less risky for the user than coming into contact with liquid nitrogen. Cryogenic storage methods that rely on contact also subject the vials to shrinking and expansion, which lead to sudden explosion. Dry storage allows for consistent temperatures and more stable storage. All of our vapor storage freezers accommodate standard rack systems and adhere to industry best practices for temperature uniformity. The Custom BioGenic Carousel Isothermal Liquid Nitrogen Freezers have an industry best temperature gradient that averages -193°C inside the storage area.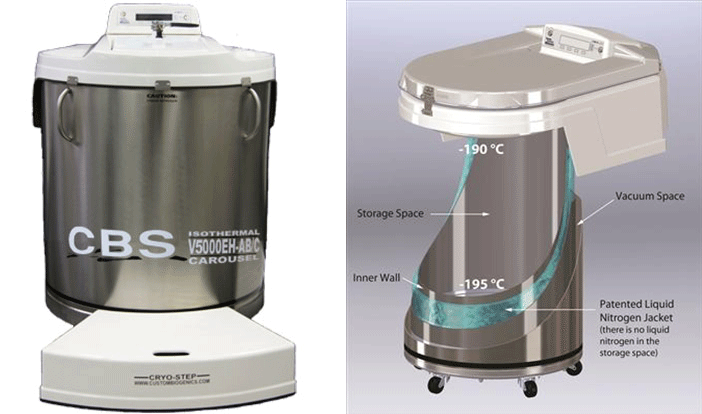 The highly efficient AI-91K LN2 Freezer from Worthington Industries offers a large capacity cryogenic storage solution designed for the Animal Husbandry markets. This freezer is rated high efficiency with very low LN2 consumption. The storage capacity is a stand out feature at 91,140 0.5cc straws (10 straws per cane). The storage is a single pivot point aluminum turntable design with full height, segmented and labeled to allow for easy inventory storage access and management. This eliminates any mechanical component maintenance and also has a smooth rotation and is ergonomic friendly.