The New -86˚C Slim-Style Ultra Low Freezer (MDF-DU302VX-PA) has been added to PHCbi's Award-Winning TwinGuard Series of ULT freezers. This freezer includes a Dual Cooling System, and its new slimmer feature means it can be installed in tight spaces. This unit provides the same reliable, biological sample storage you'd expect from a TwinGuard, with a smaller footprint on the environment, and in your laboratory.
Reasons to Choose a Slim-Style Ultra Low Freezer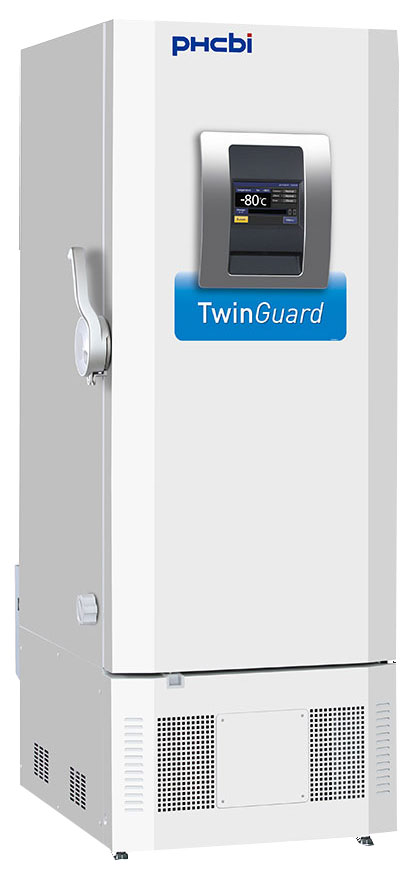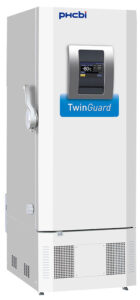 The new 12.7 cu.ft model is designed and extensively field-tested to protect specimen viability and security that is vital to long-term preservation of high-value biological samples in life science, biobanking, pharmaceutical and biotechnology.
Unlike standard ULT freezers, this new, compact TwinGuard allows it to be installed in a smaller space and it is ideal for personal storage of critical materials where remote, off-site or shared storage is not desirable.
The MDF-DU302VX-PA, an extension of the company's existing line of upright low-temp freezers, uses a unique dual cooling system and advanced cabinet design with enhanced insulation performance and storage efficiency to keep your samples safe.
Why choose an Ultra Low Temp Freezer from the PHCbi TwinGuard Series? Let us look further:
Ultimate Sample Protection
The Twinguard's patented dual cooling system maintains normal temperatures as low as -86˚C, and should a service event occur, temperatures will hold at -70˚C.
Predictive Analytics
A unique microprocessor digital controller is designed for setpoint security, temperature display and alarm functions, which continuously collect data throughout the system to predict any deviations from unexpected performance.
Efficient Sample Storage
Standard inventory racks in the TwinGuard yields 10% greater capacity per sq.ft. compared to previous models of similar size.
Improved insulation through a specially designed outer door, insulated inner doors, and automatic vacuum relief and thermal break, reduces energy consumption
Temperature uniformity, stability and slow warm-up characteristics are inherent to the TwinGuard upright cabinet design.
Intelligent Interface
The Twinguard comes with a high visibility controller, with color display and eye-level touchscreen interface, that can be accessed with gloved hands; EZlatch door handle permits one-handed opening and closing; and a heated, automatic vacuum release port simplifies immediate re-entry following door openings.
For more information on the PHCbi brand TwinGuard Series Slim-Style Ultra Low Freezer, contact us today to speak with your local sales rep or click here for a full selection of Ultra Low Temp Freezers.
Need something with larger internal capacity? The TwinGuard series ULT freezers are also available in a 18.6 cu.ft. or 25.7 cu.ft. upright cabinet configuration, or a 25.3 cu.ft. chest model. All of these TwinGuard freezers are covered in the United States by a 5-year Parts and Labor Warranty, and include a microprocessor controller with integral cooling circuit monitoring and predictive analytics.