Water-Jacketed & Air-Jacketed CO2 Incubators are the most common types of cell & tissue growth chambers used in laboratories. Over the last few decades, temperature uniformity & insulation for each type of incubator has evolved and changed to enhance performance and providing a more efficient environment for optimal cell growth. Learn the difference between Water-Jacketed & Air-Jacketed CO2 Incubators below and discover the better solution for your laboratory & application.
Water-Jacketed Incubators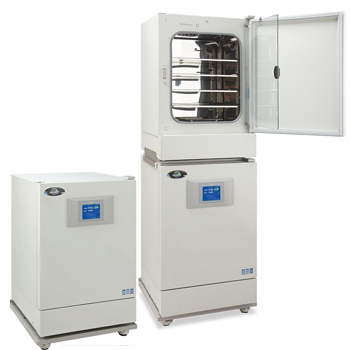 Water-jacketed incubators refer to a type of insulation that relies on heated water within the chamber walls to maintain a uniform temperature throughout the incubator. Due to the high heat capacity of water, they are capable of maintaining the desired temperature for long durations which is beneficial with multiple door openings or power outages; this makes them a popular choice to this day.
However, water-jacketed incubators do come with some disadvantages. Filling and heating the incubator can take time so the water-jacketed incubator comes with a longer start-up process. Once the chamber walls are filled with water, the incubator can become very heavy and can be difficult to move. Considering stagnant, warm water is an ideal place for contamination growth, another downside of water-jacketed incubators is algae & bacterial growth can easily take place within the chamber. Also, if the wrong type of water is used, the incubator could rust, potentially leading to costly repairs. This requires a little bit more maintenance than air-jacketed incubators as water-jacketed incubators must be drained and cleaned to take care of this problem.
Air-Jacketed Incubators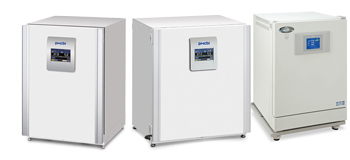 Air-jacketed incubators were conceived as an alternative to the water jacket. They are much lighter, faster to set up, provide similar temperature uniformity and generally need less maintenance. They provide faster recovery after door openings. This is due to the fact that air jacket incubators can adjust temperature on/off cycles based on the air temperature inside the chamber following door openings. Air-jacketed incubators are also suitable for high heat sterilization and temperature upwards of 180°C can be reached, something not possible when using water-jacketed models.
If contaminated, air-jacketed incubators can be quickly decontaminated through, traditional decontamination methods, like high heat, or more efficient methods, like ultraviolet light and H2O2 vapor. Many air-jacketed incubators also offer heating capabilities for the front door of the incubator providing more consistent heating and temperature uniformity, while facilitating a reduction in condensation.
Air-jacketed incubators are becoming an increasingly popular option as they offer more flexibility and superior performance when compared to their water-jacketed counterparts. Labs that frequently use their incubator should consider air-jacketed incubators for their rapid temperature recovery and decontamination methods. Air-jacketed incubators also excel for their light-weight build and less required maintenance. As incubators evolve, air-jackets are becoming increasingly the norm, as water-jackets become older technology.
Click here to learn more about the variety of CO2 Incubators available or request a proposal today